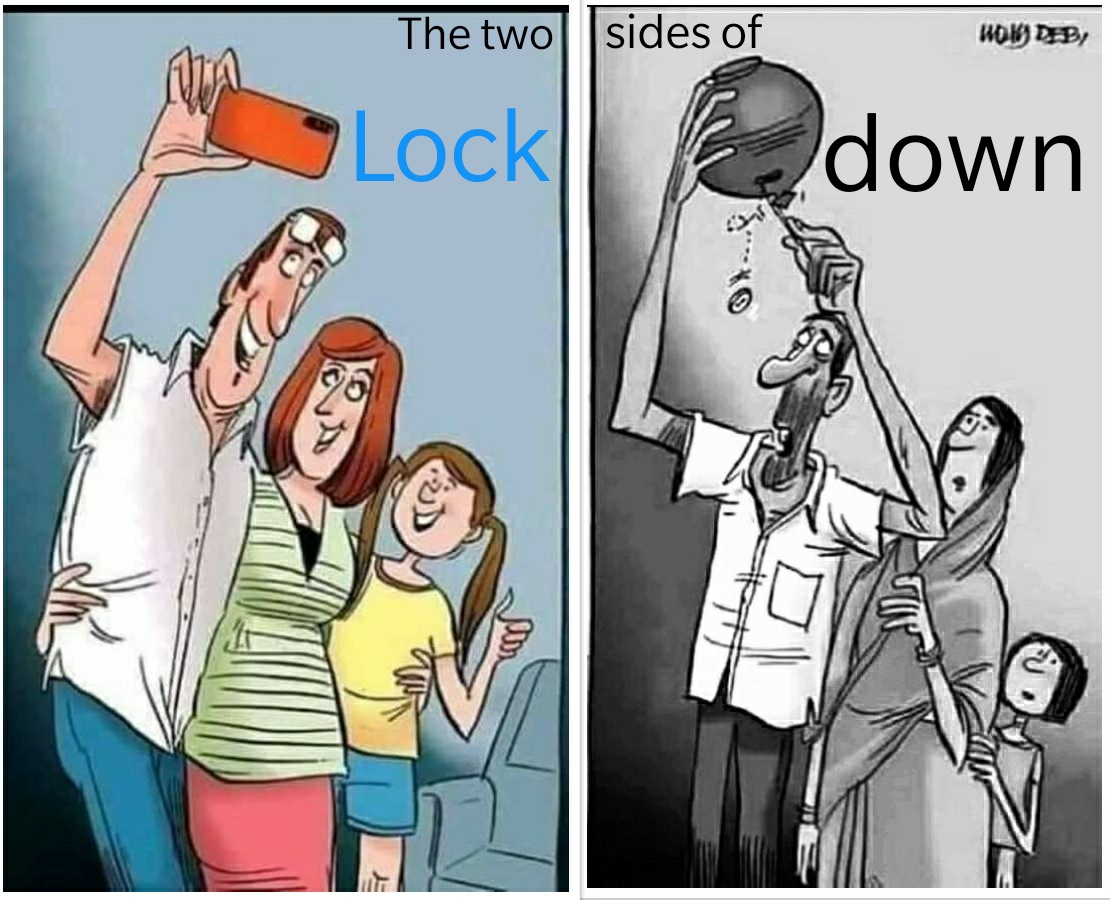 For those tracking global events in connection with COVID-19, the national lockdown announced on the night of 24th   March could not have come as a surprise. The big shock was 4 days later when we watched (on TV and social media) thousands and thousands of workers, now jobless, migrate from different cities in the country and make a beeline to their villages – the biggest mass-migration since partition.
When COVID-19 first announced its ominous presence in the country it appeared that owing to their social mobility the rich and the affluent would become the primary targets; much unlike other disasters which usually hit the poor of the country the hardest – floods, famine, cyclone, communal violence. Globally too news trickled in daily about celebrities, politicians, actors etc testing positive.  But in our country the lockdown made the poor suffer the brunt once again, even though the virus did not infect them directly.
We clucked sympathetically as we watched Facebook, Instagram and YouTube videos of movie stars posing prettily while sweeping and mopping their air-conditioned bungalows but when pictures of labourers struggling to reach their destinations became viral on social media, the initial reactions were of anger and dismay.  Would their blatant flouting of social distancing norms make the entire country pay for their follies? We worried that these migrants would return and infect their villages putting to waste all of our efforts of these past few weeks socially isolating ourselves while watching Netflix and Amazon Prime series and sending WhatsApp forwards to family and friends.
A national lockdown of this magnitude with its impact on businesses, trade, travel and financial markets will no doubt result in years of economic recession and unemployment. Equally concerning is the impact that it might have on people suffering from serious health conditions; those with heart problems, infections like TB, cancer, uncontrolled diabetes and kidney failures which if neglected beyond a few weeks could result in more deaths in this period than deaths from COVID-19.
Even then, there is no doubt that the government's bold decision has merits. While demonstrating to the world that it is capable of taking tough decisions it has also managed to create a massive public awareness regarding the seriousness of the situation the country is facing and the preventive measures that needed to be adopted – something that no media, public programs or any amount of coercion would have achieved. This according to experts potentially could slow down the spread of the virus – flatten the curve, albeit temporarily. Government and health authorities thus could gain time to prepare themselves for that major onslaught when it does hit us all in full force.
Sadly, incidents this past week have demonstrated that in a country like ours enforcing lockdown regulations strictly to a 'T' may be practically impossible, but the efforts need to be applauded.  Whether the lockdown helps us win the current battle against the virus or not a long-term strategy needs to be quickly adopted or we may land up losing this 'war'.
A strategy involving age-adjusted risk stratification of the population could be an option.
To be continued….
                                                                                                  drumanathknayak@gmail.com
Next… (Part 2) Age-adjusted risk stratification for COVID-19  Click Here 
CLICK HERE TO RECEIVE FUTURE BLOGS