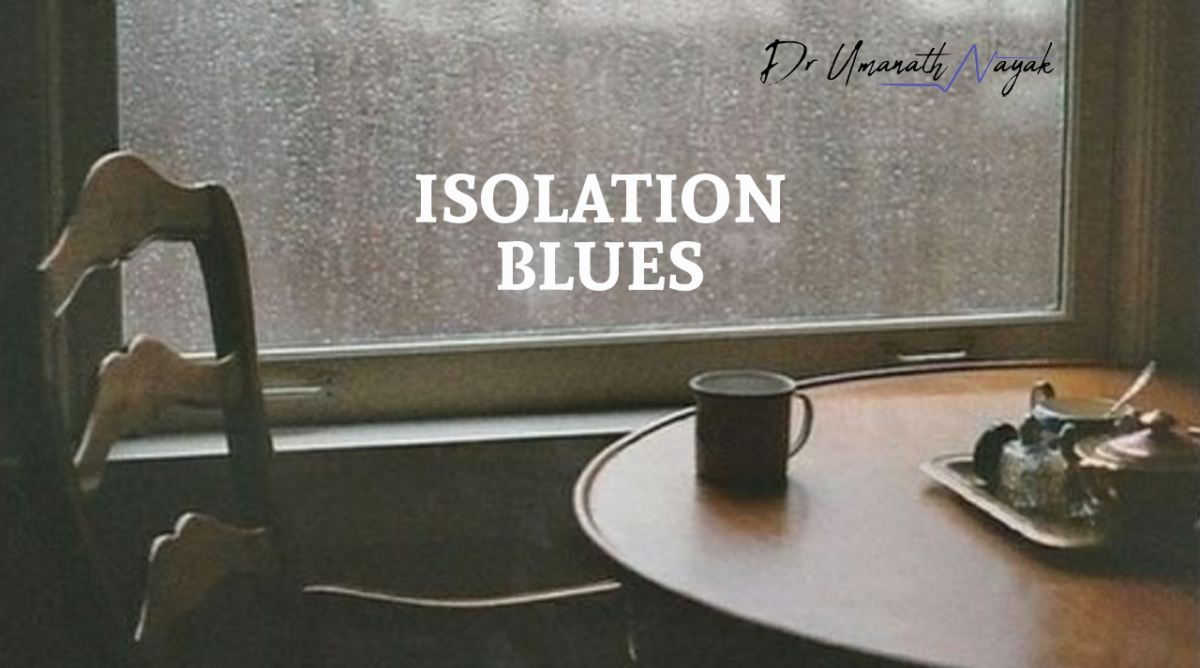 Medical professionals are at the forefront of the fight against the COVID-19 outbreak, with a caveat! Senior doctors, especially those above 65 years, are better advised to practice social distancing and isolation – not unlike the rest of the population.
This has set me thinking about ways by which these doctors could be motivated to stay cooped up at home during this tumultuous phase, something that might be relevant even later on when it is time for them to retire from active practice.
I am reminded of the ICICI Prudential TV ad I had seen many years ago – a man sitting under a glass-roof with the rain pouring down, enjoying his coffee. He is at peace with himself as he has secured himself and his family financially. The ad ends with him refusing to pick up a call from his office. The message – isolate from work, not from life!
I was so enamored by the ad that years later I had a glass roof put up in my balcony and one Sunday morning sat there under pouring rain with a cup of coffee in my hands, telling myself that this is what I would do when I retired. But today it's clear to me that financial planning may be only one aspect of what you need to consider when you plan retirement.
By the time we are sixty-five, most of us who have worked hard in our respective professions would have saved and invested enough to retire with sufficient bank-balance to pull us through the remaining years with comfort.   The more important question is – what do you do with all that extra time suddenly at your disposal? You can't be drinking coffee under a glass-roof the entire day. If you are not doing something useful or constructive with your time or haven't developed a serious hobby, you would be frustrated, irritable, depressed and age into a cantankerous old man. Planning ahead of time to identify your likes and passions and developing it into a post-retirement activity or hobby is what an intelligent person would do and if this also brings in some additional income, all the better!
But what can doctors do after they retire that does not require additional learning or skills?
The vast majority of us, for lack of anything better to do, continue to practice until one fine day we just fade away. For a surgeon; skill, dexterity and surgical decision-making has a shelf-life and it would not be fair to our patients if we continued to operate beyond a certain age. Many of my surgical colleagues have invested in farm-houses and dabbled in farming. A few are into golf and one neurosurgeon I know is into serious coin-collecting and won awards for his collection of rare and antique coins. Ultimately whatever be the hobby or activity one takes up, if the passion does not last, sticking with it for a decade or over would be impossible.
For many years I have been mulling over my options for developing a serious post-retirement activity. I possess few other skills and my PR abilities are non-existent. But one activity that I have consistently enjoyed right from my college days is writing.
A few years ago a colleague requested help in compiling a text-book and I readily agreed. Gradually writing became a hobby and with time, a passion.  Penning my thoughts became an outlet…a release, for work-related stresses and also gave me something to do during my spare time.  In these past ten years I have managed to publish a cancer self-help book, couple of novels which includes a medical thriller and another text-book.
A career in writing I have realized is in so many ways a lot like building up a surgical practice. Creating a reader-base takes time and patience. And like patients who recommend you to others when they like your work, your readers help spread the word. Like surgery, with time and practice, writing becomes easy and better. One has to keep writing though, even if it may look ordinary. You can trash it later. But publish only once you are convinced of its merit.  An opinion or two from well-meaning people can help. What you may believe is Shakespearean prose; others may dismiss as pedestrian.
I have also learnt some bitter truths. Writing is easy; getting published and getting people to read your writings is the challenge. And till you pen a best-seller, making any decent money is out of the question.
So if you are inclined, keep punching at that keyboard and hope that one day you may hit jackpot. Even if you don't, this could just be what the doctor ordered to get you over this current social-isolation business.
drumanathknayak@gmail.com
CLICK HERE TO RECEIVE FUTURE BLOGS