Life in the Times of Corona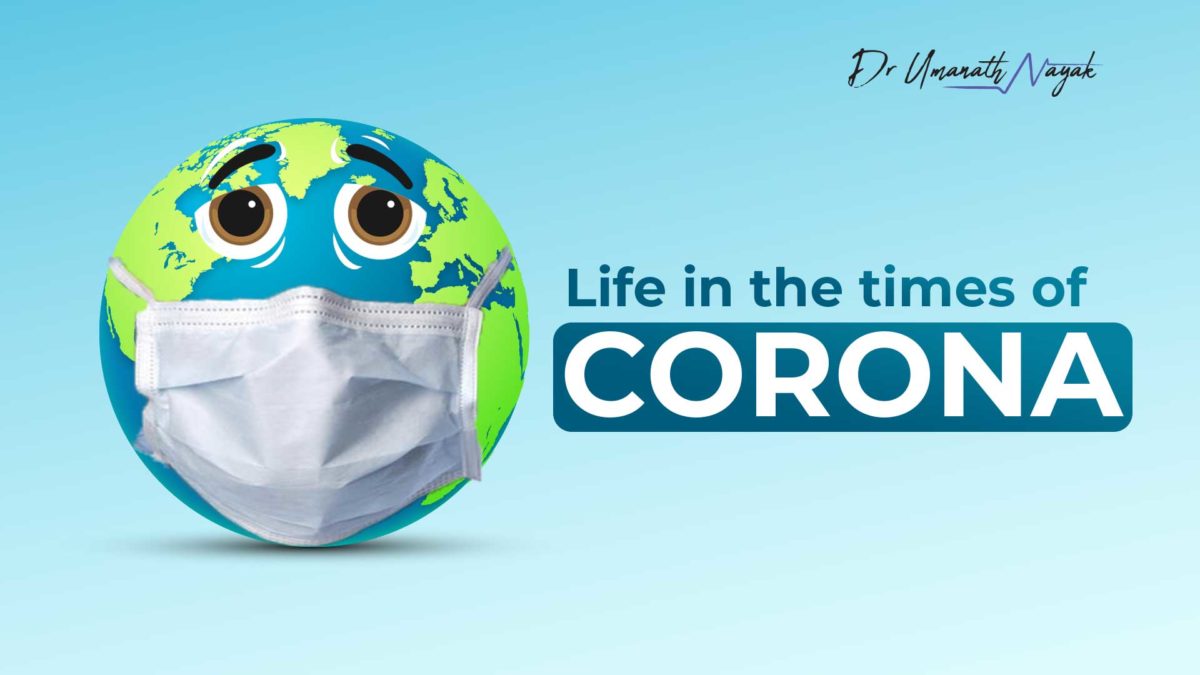 There's a disease more dangerous and destructive than the virus that is going around…
It has infected over seven billion people in the world; resulting in mayhem, a global economic slowdown, cancellation of all major sporting events and activities, closure of schools and colleges in many countries and tremendous physical and mental distress all around. It has brought the world to its knees and shows no signs of abatement in the near future. It is yet to be given a name but some have proposed 'Coronitis' and is defined as 'a mortal fear of getting infected by COVID-19'.
The disease manifests in 3 different forms based on underlying symptoms – mild, moderate and severe. Fortunately majority of those infected have the mild variety at this time, but this can rapidly change form with time and is characterised by a frequent need to update oneself with information about the global spread of COVID -19 and pass it on to others via social media. People suffering from this typically demonstrate an exterior of calm refusing to give in to the natural impulse of taking special precautions recommended for containment of the virus, but are always wary of their surroundings and watchful of the reactions that others exhibit to the changing scenario.
In the moderate form of the disease, the affected individual has a compulsive need to hoard masks, sanitizers, medicines and food items to safeguard against any lock-downs. Such a person is obsessive about covering his face with a mask at all times during the course of daily activities and when meeting even close friends and family members. A significant part of the day is spent judiciously following all instructions to avoid any risks of contracting the disease.
Severe Coronitis begins with refusal to talk or to meet strangers along with a morbid fear of going out. The individual gets startled easily whenever somebody nearby coughs or sneezes and in extreme cases harbors thoughts of murdering anyone suffering from as much as a cough, cold or a fever. Being forced to listen to repeated mobile phone caller-tune warnings for protection and prevention of virus spread in addition to causing migraine headaches and ear pain has been proved to be one of the trigger-points pushing one onto this stage. Some may exhibit personality changes and instances where people have locked up their partners in the bathroom on suspicion of carrying the virus have been recorded.
Like everyone else I too have had manifestations of the disease, initially of moderate severity when one morning I instructed my wife to stock up on a month's provisions and medicines, donned a mask for some hours and glared at those who coughed or sneezed in my vicinity. Fortunately these symptoms settled down to a milder form of watchful expectancy which I am told may continue on for a few months.
I have to draw the analogy of the time when we were preparing for a long and protracted examination during our college days where initially we are all raring to go and give our best but halfway through, the stress and strain makes us just want to  get it over with – even if it meant not getting the best outcomes. We are soon going to be at that halfway point.
There is no data or evidence to prove that exposing ourselves and developing herd immunity against the virus is the better option and the risks involved are considerable. On the other hand experts believe that it may be a few years before a cure or vaccine for COVID-19 is discovered and much before the world could  deteriorate into a mass-frenzy.
The consequences of not following social-distancing norms and welcoming the virus with open arms may not augur well for the elderly and the infirm. But at the same time the news that young children and infants develop rapid immunity against the virus, if exposed, is something that may force a wry smile amidst all the gloom.
                                                                                                drumanathknayak@gmail.com             
CLICK HERE TO RECEIVE FUTURE BLOGS