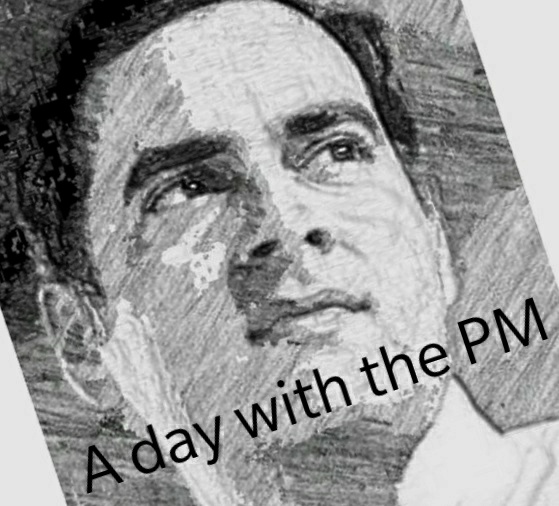 Bajpe Airport, December 1984

It's late in the afternoon.  After waiting for over an hour we finally see a plane landing. Dressed in trademark white kurta-pyjama we watch him alight, smile, and greet those who have come to receive him at the airport tarmac.
Even at a distance of 50 meters, I can feel his charisma. Surrounded by some important looking people we see him walk to the airport terminal. The chilling presence of a sniper in the armoured SUV next to our ambulance has us muttering to each other with grudging respect the security detail that goes into the protection of a PM. He had set up his telescopic rifle just before the plane landed, maintaining a constant vigil, his unwavering sight fixed on the VVIP all the time. Standard operating procedures dictated that we had no information regarding the subsequent course of events and we awaited further instructions.
As an intern at the Govt Wenlock Hospital in Mangalore (Mangaluru now), I was part of Rajiv Gandhi's entourage during his campaign for the 1984 general elections. The country was still convulsing in the aftermath of the brutal assassination of Prime Minister Mrs Indira Gandhi and he had become the default PM. As the Founder-President of a voluntary blood donor association we had started, I was given the responsibility to arrange four blood donors matching Mr Gandhi's rare B-negative group to travel with him during this leg of his campaign. Since morning I had been tracing and mobilizing the donors and for my efforts; I was given the privilege to travel with the medical support team in the ambulance at the end of the motorcade. Consequent to Mrs Indira Gandhi's assassination, matching blood donors travelling with a PM had become standard procedure; during attempts to revive her they had a tough time arranging over a couple of dozen bottles of her rare O-negative group.
An hour later the sniper returns, takes up position and soon after we see a helicopter land. We are informed that the VVIP would use this chopper to reach Kasargod, the town in Kerala where he is supposed to address a public meeting, and the rest of the entourage including us would have to make our way there by road and stay with him for the rest of the night.
It is 7 pm when we reach the venue, a large open field teeming with thousands of Congress supporters.  We are escorted inside a wooden barricade located behind an elevated podium from where the PM would deliver his speech. We are instructed to put on our doctor's coat at all times for easy identification in case of an emergency and not to venture close enough for him to spot us. Medical support had to be available at all times without being evident. Snacks and refreshments are provided as we wait.
Around 8.30 pm he arrives and after the usual formalities begins his speech. I cannot follow much of what he is saying due to the echoing sound system. Curious to get a closer look I gingerly go up the back steps of the podium, out of view of the security personnel.  No-one stops me and gathering courage I go up all the way and suddenly find myself barely 15 feet behind him in the shadow of the bright lights illuminating the stage. I hang on there for a moment watching his back and side-profile and realize that neither I nor anyone from the medical team has been frisked since we left the airport at Bajpe. I doubt anyone would have noticed if I was to carry a weapon in the deep pockets of my apron. It seems that wearing white coats has provided us all with immunity from a security search.
It is midnight when we return to Mangalore, this time with the PM. All vehicles are numbered, and our ambulance – the last one in the motorcade – is no 10. It is a sight I shall remember for long, all red lights flashing in front, and each time we climb up on the road, the darkness around us lighting up in blood red.
Post-script: Six years later, on the night of 21st May 1991, I watched with the rest of the country in horror as footage of his half-burnt body was flashed on national TV. Realizing the effect on viewers already stunned by news of his assassination the footage was soon withdrawn.
 drumanathknayak@gmail.com
                           CLICK HERE TO RECEIVE FUTURE BLOGS