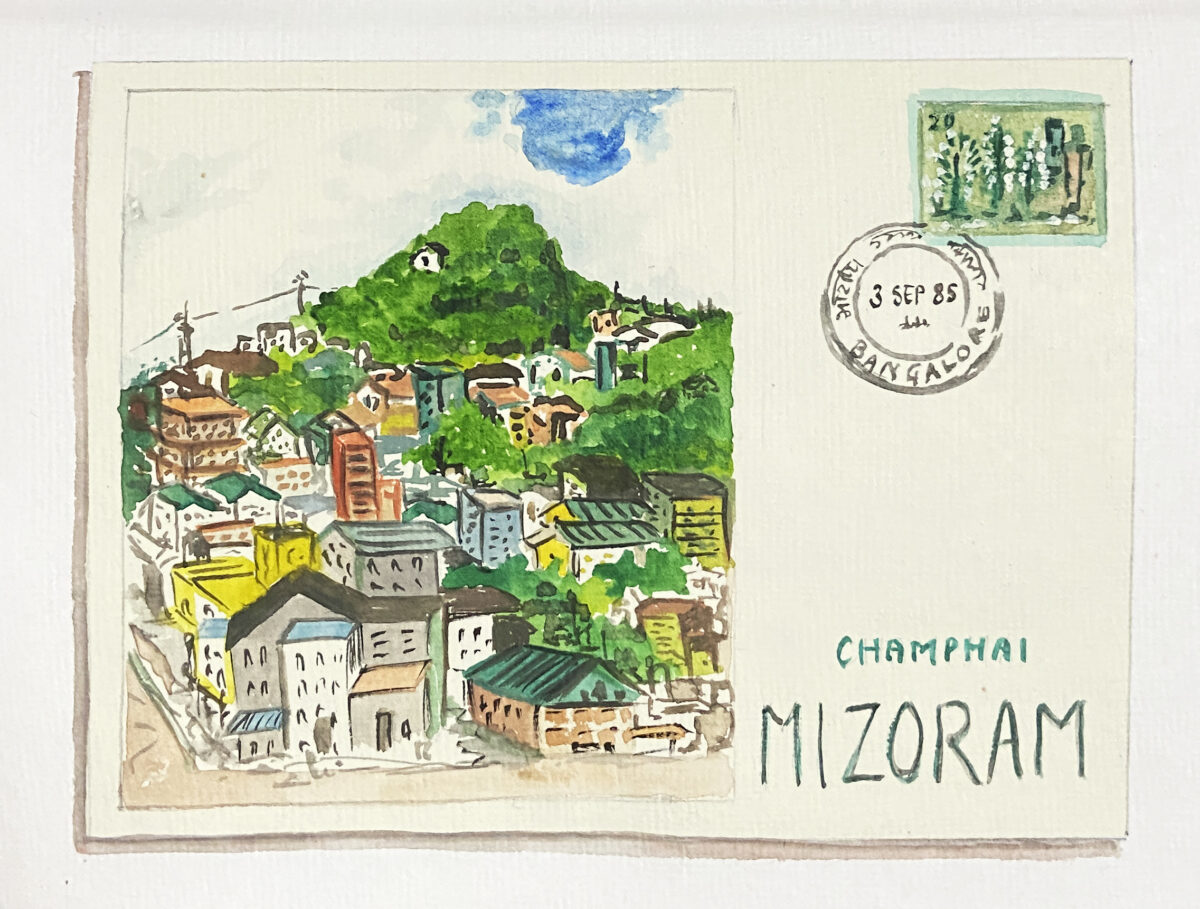 1985, Bangalore Medical College
 The postcard carried no return address.  Just a picture of a hilly town beside which was printed Champhai, Mizoram…as if she dared him to come and find her.
Through the rest of his post-graduate years, he dreamed about how he would surprise her and how she would rush into his arms. He bought a fancy bracelet watch with a gold strap to gift her and in the process used up six months of his savings.  He wanted her to throw away the watch she had once proudly shown him claiming it as a gift from an admirer; whose name he never asked.
He planned his journey meticulously.  First to Madras Central, then the Coromandel express to Calcutta and on to Guwahati and Silchar on the Northeast Frontier Railway and finally the bus to Aizawl and then to Champhai. He waited for the right time to ask his HOD for leave; the travel to and fro itself would take a week. He needed a plausible excuse to tell his parents why he had to travel all the way to the northeast for his thesis project.
As he got into the final year of his PG he started counting the weeks when he could be seeing her again. He woke up every day with a smile on his lips and a song playing in his heart. He carried the postcard in his apron pocket and a dozen times in the day looked at it wondering what emotions she must have gone through as she wrote his name and address.
His PG postings kept getting busier and busier. Cardiology merged into neurology and gastroenterology and then endocrinology. He just could not gather the courage to ask his professor for a two-week vacation. Before he even realized he was into his last six months; in the so-called exam-going batch – the final sprint to become a qualified physician. Only half of them would make it.  The HOD kept reminding them that commitment to the speciality was sacrosanct; work hard, study hard and you will pass the exams.
Work kept him busy most of the day and he studied late into the night. Dreams about the Blue Mountains, milky-white satin skin and honey-sweet kisses gradually faded away into the mist, replaced by nightmares about heart murmurs, cranial nerve palsies and metabolic acidosis. When the wedding invitation arrived, little wonder that his heart broke into a thousand pieces. He was learning to fix other people's hearts, but they never taught him how to fix his own.
Thirty-five years later, with the postcard close to his heart, he finally visited her land in search of those broken heart pieces, terrified that she might forever disappear into the dark abyss of his mind.
But although he had never admitted it to himself … and then again now, it was the underlying fear of rejection that once more dissuaded him from taking the final stride to get to Champhai to her; and instead settle for a boat ride on the Kaladan.
Next… Huntingroute
 drumanathknayak@gmail.com
__________________________________________________________________________________
Excerpt from Chapter 3 of A Final Waltz (click for prologue)
To read the back story, click here Land of the Blue Mountains
Follow @umanathnayak04 on Twitter
Artwork courtesy yellow_kettle_illustrations