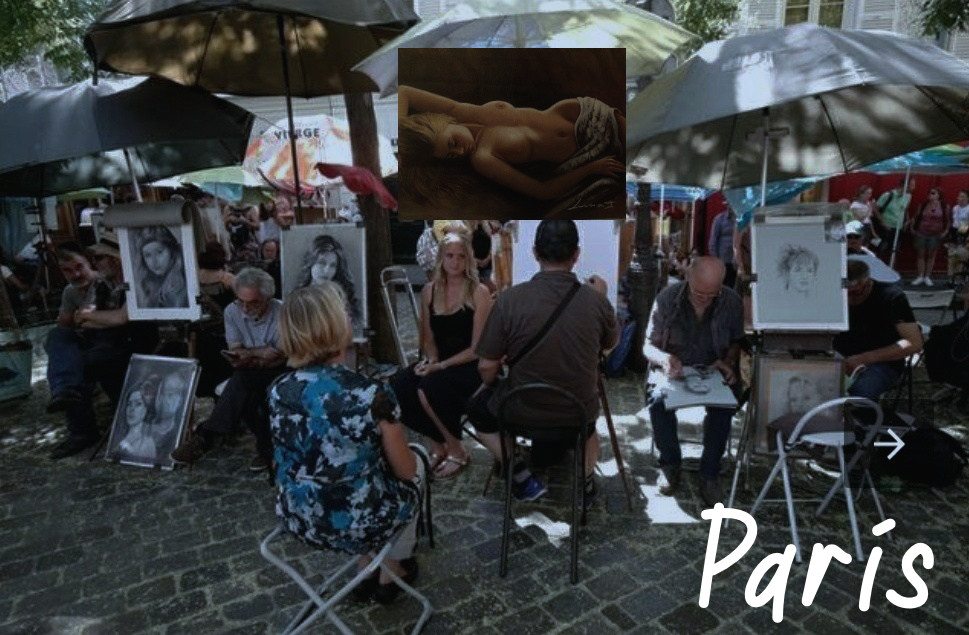 It was on my second visit to the 'City of Love' that I came across her. Since my previous visit 15 years ago the city had changed; brooding and less welcoming, but then I had too and had no reason to complain. 
Going off the beaten track I decided to spend an evening exploring the artist's village around Montmartre, where over a century ago van Gogh, Picasso and Monet had lived and worked. It now was the haunt of struggling artists trying their luck to leave a mark in the art galleries around the world.
I hailed a cab and asked the driver to take me to 'Montmartre'. The chap shook his head indicating that he knew of no such place. As I was wondering if he was intentionally trying to be unhelpful, it struck me that many of the letters written in English are silent when pronounced in French and repeated, this time more forcefully, 'Monmare'. He continued to put up a blank face. Exasperated I took out the city's map, pointing at the place prominently shown in bold. He laughed at me, 'Moma… if you want to go to Moma, why don't you say so.'
It was sinister and foreboding as I hesitantly ascended the wide and steep steps up the hill, finally making it to the top, to the Basilica of the Sacré-Cœur. After spending some time there, restless, I went in search of the artist's quarter, locating it after some difficulty – cobblestoned pathways housing a few dozen studios and art galleries with tiled roofing displaying hundreds of paintings.
I looked around, my excitement rising and it was then that I got beckoned by this young French girl, golden tresses spread around her lovely face, lying seductively with her left arm around her head. She was expensive but made my journey there worth every effort.
After dinner at a restaurant nearby, holding her close, I trudged to the village theatre where I had bookings for a play. They refused to let her in, and with some trepidation, we parted.  Soon the play began; it turned out to be a French musical which I had some difficulty in comprehending, but as the wine served was quite excellent, I valiantly hung on.  Halfway through the second half, by which time I was more than a bit drunk, I decided to make a hurried exit, mumbling my apologies to the usher at the door. By the time I located a cab and reached the hotel, it was well past midnight and retired to bed immediately.
It was only the next morning that I realized my folly.  In my hurry, I had abandoned the lady at the theatre. Desperate, I rushed to the hotel manager, the one who had made the bookings for the play. He called the theatre, but the watchman who answered said the theatre opened only at 7 pm, and there wasn't much he could do before that. My return flight was that same night and with the manager acting as an interpreter I convinced him (with the promise of a small fee) to request the clerk to come in a bit earlier that evening and help me out!
It turned out to be a race against time as I took a detour, rescued the damsel and made it to the airport just in time.
The painting now takes pride of place on the wall of my den.
CLICK HERE TO RECEIVE FUTURE BLOGS