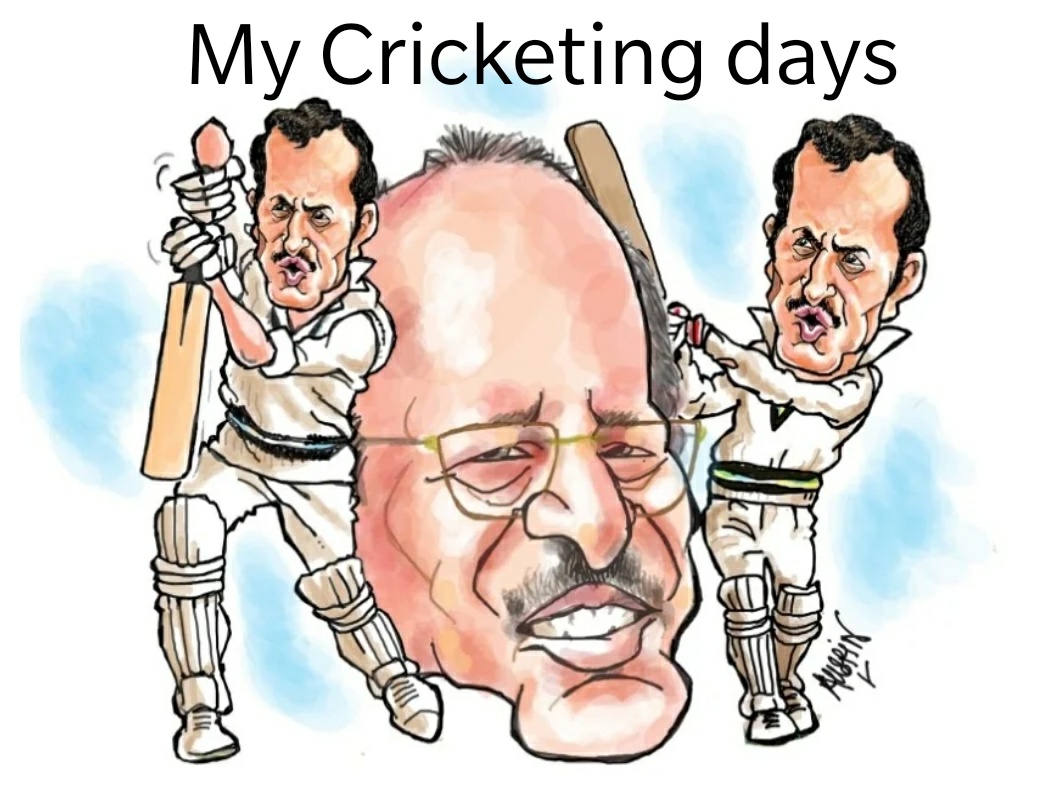 On the receiving end of the cricket ball on many an occasion in my school days, the shiny and swinging new ball instilled a certain fear in me.
I used to open the batting for my team but as we progressed from tennis ball to the leather cricket ball, a few painful blows later, I did not relish the idea of batting high up in order. As a first-year medico, at a practice session for selecting the college team, I volunteered to keep wickets. The regular wicket-keeper was indisposed with an attack of viral fever and the coach wanted to know if there were any other keepers around. Realizing this was the easiest way to get into the college team, I raised my hand.  Even before I knew what I was getting into, I was padding up for the match against the state regional engineering college that boasted of four university players in their team.
The first day records showed a score of 450 plus with three wickets down for the opposing team but not a single bye. The coach, who wasn't there for most of the day, saw this as the only redeeming feature of our game that day and immediately confirmed me as the first choice keeper for the rest of the season. The truth of the matter was that the batsmen kept pounding the ball so accurately there was hardly anything for me to collect behind the stumps. We lost the match miserably, but I had no complaints.
With every game my wicket-keeping skills improved as I gradually lost the fear of the new ball, my confidence boosted by the thick padding on the gloves. I even managed some remarkable catches and some nippy stumpings.
Two incidents from my cricketing days remain etched in my memory, neither of which has to do with my exploits behind the stumps.
My Biochemistry professor was an eccentric but brilliant teacher who believed that students did not treat the subject he taught with the respect and attention it deserved. In my second term of first MBBS, I along with another boy in my class (an opening bat and a genuine cricketer, he had represented his school in the Bangalore zonal cricket tournaments) requested permission to miss out on a mid-term test since it clashed with an important match. He listened patiently, studied the scores of our previous biochemistry tests and pronounced,
'You can give the test a miss only if you consider cricket being more important than becoming a doctor.'   
Looking at our disappointed faces he added,
 'If you still insist I can let you go,' pointing to me, 'but not him,' glaring at the real cricketer; 'if you miss this test I doubt you will be able to make up your internal assessment marks and may even risk losing a year.'
My mate panicked and told me as we came out of the Prof's chamber, 'I am not playing any more cricket until my final exams.'
I played the match, a limited-overs one, which we won fairly easily. I even affected a couple of dismissals, diving to hold catches and by the time we were done my cricket whites were more brown than white. I looked at my watch – it was just 4 pm and the Biochem test was scheduled between 2-5 pm. I smiled to myself, said bye to my teammates, hopped on my bike and made it straight to the examination hall. The Prof who was also invigilating raised his eyebrows at my soiled clothes and dirty face even as I enquired innocently;
'Can I still write the test? The match just got over and I rushed here immediately.' 
He looked at his watch, 'You have half an hour left… but please go ahead,' and handed me a question paper.
I scribbled some answers and as I handed over my answer sheet he asked,
'Who won the match?' 
'We did, sir. We are now in the finals.'   
He nodded.
When the test results were put up on the notice board a few days later I was pleasantly surprised to see that I had managed to pass the test, no doubt courtesy of the professor.
Years later, when I was a first-year surgical post-graduate, my neurosurgery consultant was in the habit of asking me to assist in his private cases. He had a long surgery scheduled one afternoon on the same day that we had a match. Our captain was insistent that I could not miss the game since they had no spare wicket-keepers. I took a chance. The opposing team won the toss and elected to bat first and by noon their innings was over. At lunch-break, I reminded the captain that I had to leave soon.
'Just bat a few overs, hit whatever you can. If you get out cheap doesn't matter, you can then go.'   
I accepted the challenge and opened, took guard a foot outside the crease-line and hit everything they threw at me. The new ball no longer posed any perils for me. In four overs I had scored half-a-century and they still couldn't get me out!
Reluctantly I had to retire as time was running out.  I managed to get to the surgery just in the nick of time.
Whenever the team captain and I meet he never fails to remind me of that game, laughingly referring to it as the hardest-hitting innings he has seen in his cricketing career.
CLICK HERE TO RECEIVE FUTURE BLOGS