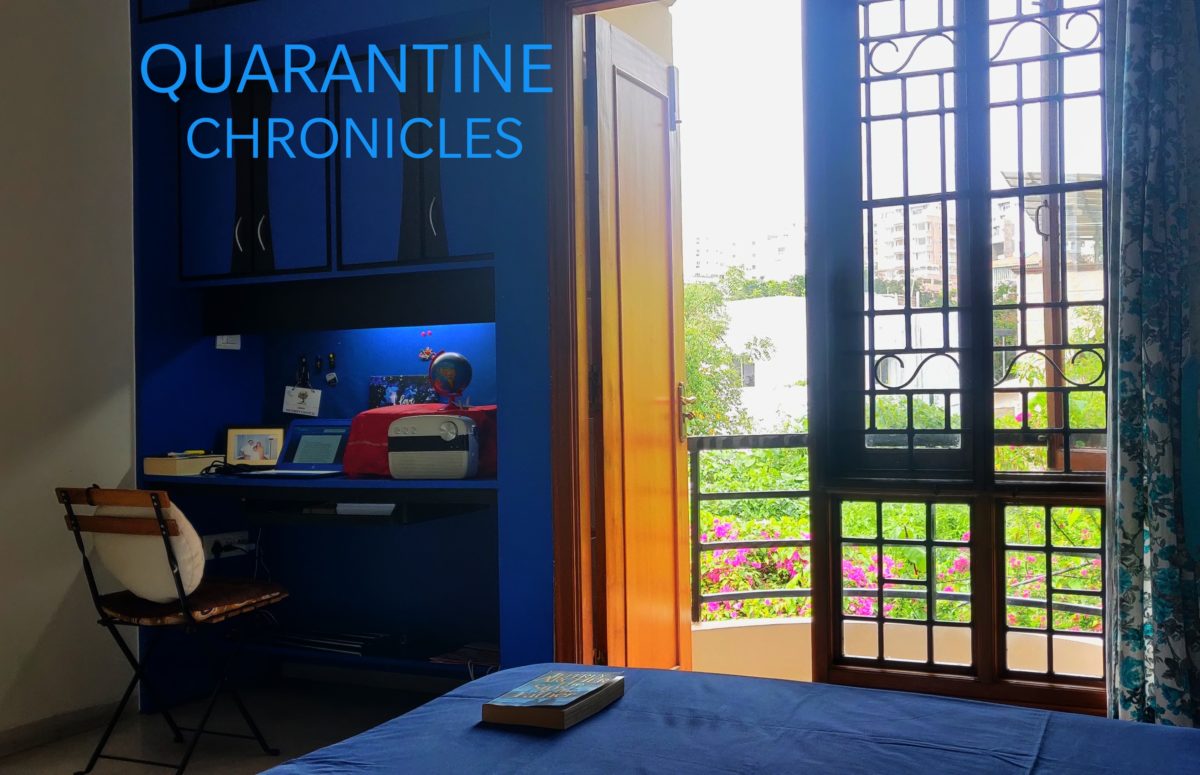 'A good beginning is half the battle won,' I told myself.                                                                               

It was the morning of day one in quarantine.  My wife hadn't replied to my previous night's WhatsApp message (COVID Warriors) which I took to be an acceptance of my decision to self-isolate.
I prepared a schedule for breakfast, lunch, tea and dinner which I texted to her for approval. I wanted to keep my bedroom door closed at all times except when accepting meals. Our son, who had almost taken the next flight home from Bengaluru, settled down once I reassured him that the situation was under control. I promised him that we would video chat daily so he could see for himself how well I was doing. I relaxed, pleased that I had successfully executed the coup d'état.
Colleagues from my work-place called trying to check if I was fine. I assured them all was well, that I was just being careful and it would just be a matter of time before many others would be in a similar situation. I had handed over my work responsibilities to my colleague so work did not suffer. Some patients who had appointments were anxious about my absence; I allayed their anxieties without getting into unnecessary details. I re-arranged the bedroom to adapt to my obsessive-compulsive nature and settled down to prepare myself for the uncertainties of the coming days.
 Following a good night's sleep (I didn't get much sleep the previous night), I woke up feeling refreshed. Sleep has so much to do with our outlook. A good rest helps us cope better and provide a fresh perspective of things. I also realized how little we truly need to be comfortable. Food, water, fresh air and sunshine, a daily change of clothes, a mobile to be in touch with the world, laptop for some serious writing and a Saregama CARVAAN for listening to old Bollywood numbers.
While reading The Hindu I was disturbed by news of so many doctors in Hyderabad testing positive for the virus, despite wearing PPE and taking precautions. The virus was spreading from un-tested and unidentified asymptomatic carriers. Limited testing was sadly taking its toll on these unfortunate 'warriors'.
An article posted in our doctor's group about how bald men are at higher risk for a more severe form of COVID than other men heightened my anxiety.  I stopped going through such posts and to take my mind off such unprofitable thoughts, started reading Jeffrey Archer's 'The Clifton Chronicles' saga.
A couple of close friends called to enquire about how I was coping and I realized that talking helped. While news and social media posts increase stress levels and WhatsApp chatting is of limited help, it was good old-fashioned talking and listening to family & friends that reduced anxiety; as well as support from near & dear ones.
On day three, I woke up early feeling stuffy and blocked in the nose. I put off the air-conditioner; tried going back to sleep, but sleep eluded me. The stuffiness went away after some time and I was much relieved. In the shower, I thought about the war against Corona and the four phases many of us would have to suffer before we could claim victory:
THE LOCKDOWN: We stay at home, prepare ourselves, gather information, maintain social-distancing with unfamiliar people. We are wary, but anxiety levels are low.
THE QUARANTINE: You come in contact with a confirmed case. Anxiety levels shoot up as you wait for symptoms or test positive.
VIRUS POSITIVE: The most difficult phase. Anxiety levels peak and you are no longer in control of the situation. It is the virus which has the upper hand and will decide what is in store for you.
THE RECOVERY: You recover. And once again you are ready to face the world on your terms.
I wondered: is it better to get it done and move on with our lives and not worry all the time; especially since current evidence suggests that chance of re-infection is unlikely? The line of thought made me more accepting of any outcome.
By day six I had no symptoms that could be attributed to the virus; just anxiety-related imaginary ones which came on and off. I clung on to the general belief that if you haven't developed any fever within the first week of exposure; the likelihood of developing any severe and fatal form of COVID is low. The question that I now faced was whether to get tested or not and if so when?
Testing within the first week of exposure in the absence of symptoms is unreliable. A negative test is not a guarantee that you have not been infected – you may not be carrying a sufficient quantity of virus to show up on the test. But you can still be a source of infection to others and need to continue in quarantine. A positive test means you are an asymptomatic or pre-symptomatic carrier. You have to isolate yourself for longer than 2 weeks until you test negative. If you have no symptoms or very mild symptoms you may continue self-isolation at home, but if your symptoms worsen you may have to get admitted to a hospital.
I decided to not get tested and continue the quarantine for the recommended period of 2 weeks.
As the days went by without much change in the daily routine, I felt less and less like a caged animal waiting to be released from the zoo. By the end of the 8th day of quarantine (10 days post-exposure), my wife began to worry that I must be going loony despite my assurances otherwise. Statistically, 95% of those infected develop symptoms within 10.5 days of exposure, so I relented and came out. I spent the rest of the period at home but maintained physical distancing from her.
I suspect she must have realised  that I was enjoying the isolation far too much for my own comfort!!!
CLICK HERE TO RECEIVE FUTURE BLOGS